There are two important types of content calendars that a social media manager will almost always make use of. The first is the editorial calendar, which will gather all your content projects into one document to help you plan and schedule each release.
The easiest way to organize a content calendar is by using a separate tab for each month within Google Sheets or an Excel Spreadsheet for each month. Activities can be broken down by day or hour, depending on the volume and cadence of your content plan.
Get your FREE starter template. The following is a very basic template of an editorial calendar. You should add columns or rows as required.
[contact-form-7 404 "Not Found"]

Your editorial calendar should include simple information about each of these projects:
Title or description of the content
Links to supporting documents, like content briefs
Author or writer
Deadline
Channels you plan to promote it on 
The second valuable content calendar is a social media content calendar. This should include all of the social media messaging you'll use to promote your content, organized by date and time. Social media engagement can't be planned in advance, but social media promotion can be, which is where this calendar comes in handy.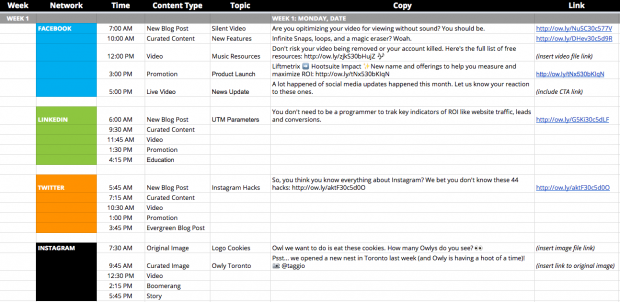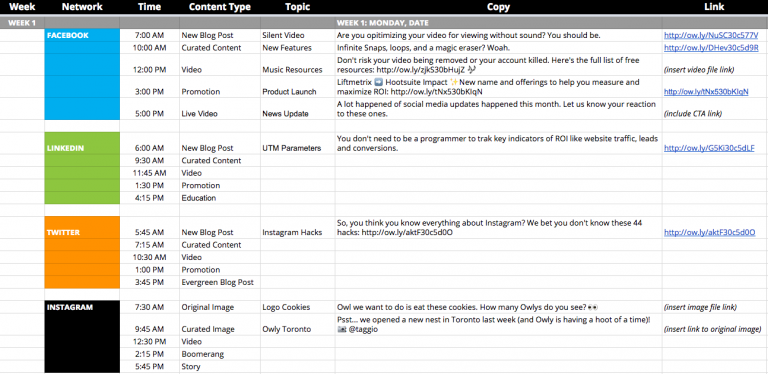 This social media calendar will solve some of the biggest issues that marketers face—continuing to post badly-performing content, ignoring certain accounts and overwhelming others, missing important dates or events, and gaps in publishing.